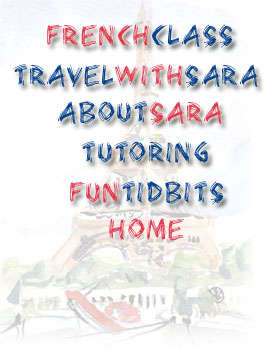 Paris, 2004
Slideshow
On Sunday, September 19, I set off to Paris with a group of 5 students from my evening classes. We spent 10 wonderful days, combing the street markets, seeing some of the major tourist sights and visiting a few out of the way places. Our itinerary included the following places: Sacré Coeur, rue Mouffetard, Jardin du Luxembourg, Versailles, Musée d'Orsay, Seine cruise, Père LaChaise Cemetery, Notre Dame, St. Chapelle, Ile St. Louis, Les Egouts (sewer tour), La Tour Eiffel, La Samaritaine and Le Bon Marché. I will keep changing my photos on this page to highlight some of the great places we visited.
This trip was a learning experience where each person (John, Beth, Dana, Laura and Janice) was able to use the French they've been learning over the past several years in my classes, and they were able to experience first hand the lessons we role-played: purchasing souvenirs in stores, ordering from the menu in restaurants and cafés, asking for directions, and figuring out the metro maps.
We stayed at the Paris-France Hotel, in the 3rd arrondissement, which was very comfortable and impeccably clean. We ate quite well - eating lunch in brasseries all over the city and having dinner in different restaurants in the area of our hotel. We had a special soufflé dinner one evening and Moroccan couscous another. We met with several of my French friends for dinner and were even invited one evening for a Champagne aperitif at a friend's home. We were honored to be invited and he was just as honored to have a group of Americans in his home!