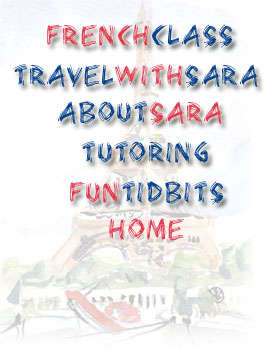 Paris, 2005
Slideshow
The last two weeks of September 2005, a group of my evening students, John, Debra, Laura and Robin joined me for my second annual trip to Paris. We had 10 glorious days, discovering new and old places. The Open Tour bus gave us our bearings on our first day, joining it at the Louvre where we saw le musée and le pyramid under beautiful blue sunny skies. Our 10-day itinerary took us to the majestic Tour Eiffel, la rue Cler, le marché on rue Poncelet, the Musée Carnavalet in the Marais, Les Galeries Lafayette and Le Bon Marché, le Jardin du Luxembourg, and a stroll down the Champs Elysées. We enjoyed an evening theater production of La Cantrice Chauve at Le Théâtre de la Huchette, even though not everyone understood all the French. One doesn't have to understand the language to comprehend Ionesco's theater of the absurd. A day in Chartres and a day in Giverny, the only time we had rain, were nice getaways from the bustling city. The Marché aux Puces was a disappointment as we went early on Monday morning to avoid the weekend crowds, only to find out that Monday the market doesn't really get going until afternoon. So impromptu was the word for that day!
This group was able to experience first-hand the conversations we had been having in our classes regarding purchasing souvenirs in stores, ordering from menus in restaurants, cafés, and bistros, asking for directions, figuring out the metro maps, and trying on and purchasing clothes (which Laura became the master of on this trip).
We stayed at the Paris-France Hotel, in the 3rd arrondissement, which is very comfortable and impeccably clean, despite the small rooms. We ate well! The food, needless to say, is marvelous anywhere you eat, and we enjoyed eating lunch in brasseries and cafés all over the city and having dinner in various restaurants in different arrondissements. We had a Moroccan couscous our first night at Chez Omar, raclette one evening in the bustling Quartier Latin, and ate crèpes in another quaint restaurant near Blvd. St. Michel. John, Debra and I enjoyed a huge choucroute one evening, while Laura and Robin discovered their own restaurant, based on another student's recommendation. We met with my French friends, Jean-Marie and Eliana, for a fabulous lunch at Le P'tit Fernand, and everyone enjoyed the full experience of food and conversation in a Paris restaurant! My friend Georges invited us one evening for wine and cheese tasting at his home, with a delicious plateau de fromages variés, and a tarte aux pommes for dessert, that he had made himself. We were thrilled to be invited into his home!
Another wonderful traveling group and another fun-filled trip full of great adventures, in the beautiful city of Paris.