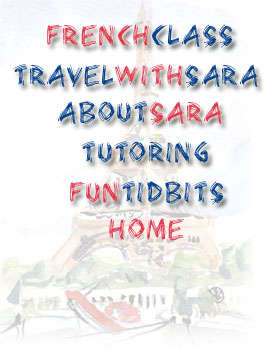 Loire Valley, September 2008
Slideshow
Traveling to the Loire Valley in September 2008 was a wonderful trip. Beth Hansen, Tom Thornton, Ida Johnson, Sharon Hunter and Jane Bryson shared this adventure with me this year. We all set out together from San Francisco and upon arrival in Paris, we rented our Renault Espace minivan, barely getting ourselves and our entire luggage stashed inside. Heading out of the maze of the Charles de Gaulle Airport, we drove down to the Loire Valley following the national roads through small towns and villages.
By mid-afternoon we arrived at our first castle, Chateau Chambord, via the back road. The backside view of this castle was breathtaking! Chambord is an amazing chateau with 365 fireplaces and chimneys. It has an amazing double staircase, in which neither meet. This was one of the king's hunting lodges and it is set on thousands of acres of park and game reserve. Our hotel was located on the grounds of the chateau and each room had a view looking out at it. A great beginning to our trip!
The second day we visited three castles. The first was Chateau Cheverny where we saw the hunting dogs on their day off basking in the sunshine. Unfortunately, we missed seeing their noontime feeding, which is supposed to be fascinating. The interior of this castle is beautifully furnished and is still lived in by the private owners. For those that know the Tintin stories, the mythical Moulinsart is based on this castle, and they have a museum dedicated to him. Our drive through the lovely Loire Valley countryside took us next to the beautiful medieval-style Chateau Chaumont, which stands high above the Loire River, set in a beautiful park setting. Yearly in September, there is an international garden festival on the property, so we toured through the various displays, but we didn't visit the inside of this particular castle. Our last visit for the day was to Chateau Blois, which is located in the center of the town of Blois. The architectural style of this castle is so diverse it is like four separate castles rolled into one. When you enter the inner courtyard, you are surrounded by the castle on four sides and each side is a unique building. We had a wonderful dinner in town and when we finished, the sound and light show ("son et lumière") at the castle was just beginning. When we went up to the castle to purchase the tickets, they wouldn't accept my credit card. Looking at the people behind the counter gave me a strange feeling. I had a feeling that the people were gypsies trying to take our cash, so I declined the tickets and we left, a bit disappointed.
The following day we drove to the other side of the Loire Valley to our second hotel, an old manor situated among the vineyards and fields of dried sunflowers. It was a lovely and quiet location. After dropping off our luggage, we set out for beautiful Chateau Chenonceaux. When approaching on foot, you walk under a long, lovely canapé of plane trees and suddenly the castle appears. Very magical! It is set on the Cher River and has two distinct gardens on either side of the castle, which we enjoyed strolling through and photographing. Each room inside is beautifully furnished with gorgeous bouquets of flowers everywhere. We drove on to Chateau Amboise but unfortunately we got there just as it was closing so we didn't get to tour the inside. We were able to explore the area around it and strolled through the cute little town. We had dinner in a pizzeria, and while reading the menu we noticed the translation for avocado was "lawyer", since the word "avocat" in French means both avocado and lawyer. We all had a very good laugh.
Day four took us to Chateau Chinon, which was not far from our manor hotel. This castle is perched up high above the town overlooking the Vienne River with a stunning 360º view. Except for a couple of existing towers, the castle is mostly in ruins but it was interesting to walk around. The quaint town was fun to stroll through with great places for interesting photography. After finding a great little restaurant for lunch, we drove to Chateau Saumur which sits high above the town of Saumur with a breathtaking panoramic view. The castle foundation is literally crumbling away, so it is undergoing major reconstruction, but we were able to tour the inner courtyard and take advantage of the view. We wandered through the town of Saumur, which was a busy place, and enjoyed an afternoon snack of pastries. While driving, we encountered a group of hunters just returning from their pheasant hunt, so I quickly stopped the car and they graciously allowed us to photograph them. Just a lucky happenstance! We drove back and had a delicious three-course dinner at the manor house we were staying at.
Our last day of chateaux touring took us to Chateau Ussé, which is nicknamed "The Sleeping Beauty Castle". Charles Perrault, the French author of this tale, spent time at Ussé as a guest and legend has it that Ussé inspired him to write the famous story. It sits on the Indre River with beautifully manicured gardens. A descendant, of the original owner from the early 1500's, and his family live in a section of it today. We were able to tour part of the inside, which had a series of rooms set up with depictions of the story of Sleeping Beauty. There is also a private chapel and horse stables on the property. Next we drove to beautiful Chateau Villandry and its picturesque gardens. As it was lunchtime, I decided we should simply grab a sandwich and eat it at our leisure while strolling through the vast gardens. We found a small bakery (boulangerie) and the baker was just removing fresh baguettes from his oven, so we all ordered a ham and cheese sandwich on his wonderful bread, and then toured the gardens. They are all perfectly manicured with flowers, vegetables and fruit trees of all varieties. A gardener and photographer paradise!! Our final castle was Azay-le-Rideau, which also is in an enchanting setting, built on an island on the Indre River, it is smaller than many of those we saw, but gorgeous. The inside of the castle we liked less as it was very dark and somber with heavy furnishings and curtains. But what wonderful castles we were able to see and of course there are a lot of photographs to document them all.
The following day we drove back up to Paris and found our hotel in Le Marais, not far from the Place des Vosges. It is located on a one-way street with little room to spare, and we had to block the street while we unloaded all of our luggage, but we didn't rile up too many people. But then I had to return the van to Charles de Gaulle Airport, so Tom kindly came along with me and proved to me again that his GPS was indispensible, and I was ever so grateful to have both of them with me! We wound our way through the busy Saturday afternoon streets of Paris and made it back to the airport without incident. Then we hopped on the RER and headed back into Paris, where we were finally able to have lunch, at 3 p.m.!!! Tom and his Tom-Tom were lifesavers on this trip navigating us through the countryside, villages and cities, day and night. I've become a GPS convert for my European adventures!
Our first full day in Paris, we wandered through the streets of the Marais, but most everything was still closed as it was Sunday morning, but it was nice to wander through a quiet Paris. We went to one of the oldest markets in Paris, Le March� des Enfants Rouges, which is not too large, but it had an array of wonderful freshly prepared foods from all over the world. Next trip we'll be sure to visit it at lunchtime. Then we headed over to the rue Amelot, where there was a large, bustling market that extended three city blocks. It was a bit claustrophobic for some people in our group, as locals were focusing on their weekly shopping, but what a place for a photographer! They had everything and anything you could think of, and more. You could purchase just about any animal or animal body part. Then we had lunch at a restaurant on Place de la Bastille before heading over to Notre Dame and Saint Chapelle. The latter is such a special place and to meditate in the stained glass chapel is part of the Paris experience. Every Sunday there is a flower and bird market near Notre Dame so we wandered through that before going to Notre Dame, where we met my French friend Georges, and attended the free organ concert in the cathedral. We had only been inside ten minutes when Sharon, completely distraught, told me her purse was gone! A new adventure began. We all went to the nearest Post de Police where she had to give them all her info. She and I attended to business and the rest of the group sat sympathetically in the very small waiting room at the police station. To see this whole group of Americans coming in must have been quite a sight!
The next day, Sharon and I spent two hours at the American Embassy at Place de la Concord getting her replacement passport, while the rest of the group went and enjoyed the Tuileries Gardens and the Musée de l'Orangerie. After all meeting up for lunch, we toured the Opéra Garnier and then strolled along the Seine heading back to our hotel. We had wonderful dinners in a different small restaurant each evening. The food was always delicious.
The following morning we took a cruise down the Canal Saint Martin. This is a charming trip down a canal, which runs from the Seine near Place de la Bastille and ends at Parc de la Villette. It takes you underground for quite a distance and then surfaces and runs along side the streets of Paris. We went through seven different locks, which is such an interesting process watching as the lock keeper monitors the water level allowing us to proceed up or down the canal. We were alone on the boat with just one other couple, so we had the guide to ourselves. He was very informative and entertaining. We took the métro back to the Musée d'Orsay where everyone toured the museum at their own pace. After a lovely teatime break, we strolled up Boulevard Saint Germain window shopping in a gentle rain. Then we went to the Théâtre de la Huchette and saw the play La Cantatrice Chauve, in French of course, which has been playing everyday in that same theatre for the past fifty plus years. Even for those who don't speak much French, it is quite entertaining. Afterwards, we found a cute little restaurant in the Latin Quarter for our dinner.
On our final day in Paris, only a few of us visited the Centre Pompidou and the whimsical modern art fountain area just outside of it. We also wandered through the beautiful church Saint Eustache, which has a gorgeous pipe organ, which is said to be the largest in France. We didn't get to hear it being played, but it is a must for another trip. There is also an interesting art sculpture of a head and a hand ("l'écoute") on the backside of the church, which we photographed from various angles.
The Loire Valley with all its marvelous castles was a wonderful adventure for all of us. We covered a lot of territory and many castles but it would be hard to eliminate any of them. The French were wonderfully gracious to us, the food was always delicious no matter where we ate (with the exception of our first lunch in a little village, where we had no other choice but to eat there, and we all had the toughest steak we'd ever eaten), and the sights of each castle and town were stunning. Paris was as wonderful as ever and there is always more to explore! If you click on the pictures shown here they will change and you will have a mini slide show of our trip. Until next year's trip, which is now being planned for September 2009 in La Dordogne.