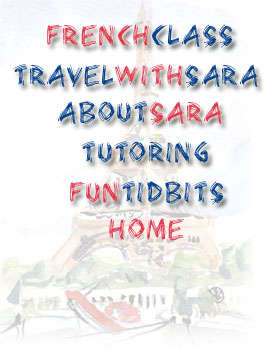 Dordogne, September 2009
Slideshow
In September 2009, I took a group to France to visit the Dordogne Region, east of Bordeaux. Three people joined me again this year: Beth Hansen, Tom Thornton, and Ida Johnson; Sophie Ritschard and Ruth Miller were new to the group.
After arriving in Paris, we took the TGV (Train � Grande Vitesse) to Bordeaux. This beautiful city has been cleaned up after many years of looking dirty and tired. The buildings and statues are beautiful and the esplanade along the Garonne River has become a beautiful promenade. Sunday morning was market day and that promenade was bustling with people. The new electric tramway system is not only elegant and comfortable, but inexpensive and easy to use. The statues at the Place des Quinconces are formidable and must be seen!
After bidding Bordeaux farewell, we set out for Saint Emilion a charming hilltop town set among the vineyards, less than an hour's drive from Bordeaux. We explored the quaint cobblestone streets which are full of boutiques and restaurants. There is an interesting underground cathedral, as well as a tourist tram that tours the vineyards and stops at Chateau Rochebelle for a tour of the cellars and a brief wine-tasting.
At the end of the day we headed east for our hotel in the Dordogne region, Hotel Le Chambellan in Le Coux et Bigaroque. It is located in a small hamlet (smaller than a village) not far from Saint Cyprien. We received a warm welcome from the owners, Virginie and Philippe. We were escorted to our separate rooms which were all very quiet as we were in the middle of the countryside. No noise at all! They have a restaurant on the property and we ended up eating several dinners there, each one a delicious three-course meal.
We visited the Grotte de Rouffignac, a cave that represents prehistoric art with 250 drawings and engravings of bison, rhinoceros and mammoth dating back 14,000 years. We explored the 8 kilometers of galleries from the comfort of an electric train. We unfortunately did not get to see the Font de Gaume, a grotto with colored prehistoric paintings where the original artists skillfully used the shape of the rock and shadings of paint color to give a three-dimensional look to their paintings. A reservation was needed. However, the Font de Gaume recommended a small grotto, Grotte de Bernifal which we toured with the owner a man in his mid-80's. We hiked through his private forest, entered through a miniscule door and entered a very dark cave. The only light we had was his hand-held lamp which he jerry rigged to a small hand-held battery. We were courageous to follow this man into an unknown black cave, but his "tour" worked out just fine. We had lunch in the town of Les Eyzies as it gently rained.
Wednesday is market day in Sarlat and this is when the town comes alive. What a charming place! The markets stalls are set up in the middle of town and wind around through the little streets. As in all markets in France, locals as well as tourists meander through the fish, poultry, meat, fruit and vegetables stalls. Unique to this region, and sold everywhere, is foie gras, truffles (mushrooms, not chocolate) and of course varieties of wine. La Place aux Oies (Geese Square) used to be the live fowl market and is now commemorated by a bronze statue of three geese. A man and woman singing duo with their violin and guitar (www.Paris-Londres.com) livened up the atmosphere with their spirited music. We could have spent all day in Sarlat, but there was more to explore in the vicinity!
The next town on our itinerary was Beynac, a little village on the Dordogne River with its 12th century castle towering about it on the sheer rock cliffs. We toured the inside of the castle with double walls and double moats, and were in awe of the view across the river where one can see the other dominating castle, Chateau de Castelnaud which was a stronghold during the Hundred Years War and the War of Religion. We then drove to Chateau de Castelnaud to view Beynac from this vantage point.
We spent the following day in P�rigueux, wandering the town and visiting the huge Saint Front Cathedral, which was originally built in 1120 and changed in the 19th century with the Sacr� Coeur in Paris as its design model. It was quiet in the town, but I'm sure on market days the place comes alive.
Our next stop was the Gouffre de Padirac, which is an incredibly deep chasm, descending into the magical, mystical underground world. After a descent of 250 feet, a boat tour takes you on an underground lake past immense stalactites, stalagmites and fascinating pools all beautifully but dimly lit. This stop was the biggest "wow" factor of the trip. Seeing is believing, and you have to see this place to believe it. Descriptions and photos don't do it justice. After this wonderful underground adventure, we went to the incredible town of Rocamadour. Approaching this site we were also awestruck (again) as restaurants, hotels and churches rise magically from the cliffs. We walked to the very top on a zigzagging forest trail passing 14 Stations of the Cross, each one located at each bend. It started to rain as we got to the very top of the cliff, but the view was still breathtaking. It poured rain as we descended which led us into a small café where we enjoyed a nice warm drink and a snack. This town is also known for its goat cheese, Cab�cou, which is served all over this region in appetizers, salads, drizzled with honey and presented as a cheese course. It shouldn't be missed!
Now with only 3 days left to explore the Dordogne region, we set off for Bergerac. It was market day here as well, livening up the town. There are two different Cyrano de Bergerac statues in the town. One is an old stone statue located on a charming square surrounded by quaint homes, and the other is a more modern painted statue on a main square in town - both are delightful and photo-worthy (see both in my photos). After lunch we drove to the handsome Renaissance castle Chateau Monbazillac; part residence, part fortress. The inside of the castle is nicely furnished with interesting displays in each room. There is a wine tasting room upon entering the castle and we all enjoyed tasting the sweet, white aperitif wine for which it is well known. Most of us left with a bottle to take back home to California.
The following day we stayed fairly close to our little village, and visited the small town of Saint Cyprien. The whole town was taken over as it was market day, but that's what gives it its life. It started to rain gently but within minutes the rain was quite heavy and we weren't prepared for it. We sought refuge under vendors' umbrellas as best we could when a downpour came. But it didn't dampen our spirits, as markets are fun no matter what! We also discovered the castle and former residence of Josephine Baker, Chateau des Milandes, nestled in the valley not far from Chateau Beynac and Chateau de Castelnaud. The castle is open to the public and each room is devoted to some part of her life (her 12 adopted children, her stardom days in Paris, her endless generous parties, and her unfortunate fate where she lost everything). The gardens are beautifully manicured and there is an extensive aviary with various kinds of owls and falcons. This was not part of our itinerary, but it will be next time!
Our last day in the Dordogne was spent in the area where "bastide" towns are common. This refers to the layout of the town, either in the form of a central square winding out like a snail, or else built on a grid pattern. First we toured Issigeac, where we strolled through the streets and found the Maison des Tetes where 600 year old carved wooden heads adorn the outside of a building. As it was not a market day, the town was very quiet. The second town was Monpazier, where the main square Place des Corni�res is surrounded by medieval and 17th century houses. As we were driving we happened upon a town, Beaumont du P�rigord, which was festively adorned with plastic flower streamers covering all the streets in a canopy effect. It took our breath away so we had to make an impromptu stop to find out why. This city was chosen to present La F�te des F�libres, a festival associated with Fr�deric Mistral dating back to 1854, in which one city in France is chosen each year. We caught the tail end of the month-long festivities, and the streamers were coming down a few days later. What a pleasant find!
The day had come that we had to leave the quiet hamlet of Le Coux and say goodbye to Philippe and Virginie. Our farewell was as warm as our arrival. We drove back to Bordeaux and two hours later we were waiting for our TGV to take us back to Paris. We all wanted to stay longer in this lovely region of France and would have enjoyed at least another day in beautiful Bordeaux, but our train was leaving exactly on time, so we boarded and off we went to the capital.
I haven't yet mentioned all the delicious meals we had in the Dordogne. We ate duck until we all felt like quacking, and foie gras was on every menu. The food is very rich, but at each meal we all tried something different and it is hard to say that we had a bad meal. We usually chose prix fixe menus, and even though it was sometimes more than we wanted to eat, those menus generally provide the freshest ingredients along with local specialties.
We arrived in Paris at the Gare Montparnasse and took taxis to go to our hotel, H�tel Jeanne d'Arc, in the Marais. Since we had stayed there last year, we felt truly welcomed by the kind staff. We returned to the Tour Montparnasse to have dinner at the restaurant, Le Ciel de Paris, on the 56th floor. We toured the 59th floor outdoor terrace for a stupendous view of this gorgeous city, and unlike the Eiffel Tower we were able to go up quickly as there were no crowds and no lines. The dinner was nothing to write home about, and in fact disappointing after all of our delicious meals in the Dordogne where prices were affordable. But we weren't there for the food, we were there for the view as the sun set and the lights twinkled on, and then the show of the shimmering Eiffel Tower. There no place like Paris!
Our final day was spent wandering the streets of Paris. We visited Ile Saint Louis, Ile de la Cité, Shakespeare and Company and Les Invalides. After walking all day, we chose to have our last supper in the square Saint Catherine just behind our hotel. We were up early to catch our shuttle to Charles de Gaulle Airport and our flight at 10:30 a.m. Unfortunately, our plane had mechanical problems, so after boarding and settling into our seats we all had to get off and return to the boarding area and didn't leave until 3 p.m. Not the way anyone wants to spend their time in Paris. But once on board, we headed straight for SFO. Another wonderful trip to a beautiful region of France. A good group - a good time! Until next year ...