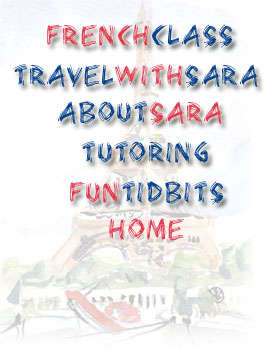 Paris, April 2010
Slideshow
Paris in the springtime is just lovely! In April 2010, I led a small group there and we had ten marvelous days. Debra, Lucie, Max and Jack were all wonderful travelers and companions for exploring familiar and new sights in and around the city.
We arrived on Sunday, and we were able to relax and doze in the afternoon at the free organ concert in Notre Dame, after having walked all day. It was great to see N.D. which finally had no scaffolding around it, and it is now clean and beautiful. We went to Saint Chapelle, as it is always worth seeing those gorgeous stained glass windows, and then we walked over to the bird and flower market, which is always very animated and bustling.
The following day took us to the Opéra, through which we self-guided ourselves. It is always so inspiring to see the grandeur of that building and all the beautiful art inside, from floor to ceiling. We then had to have our teatime break which we had at Galeries Lafayette. Unfortunately, the terrace café was closed which offers a great view out over the city, but their cafeteria worked out fine as our feet were mighty tired. A couscous dinner Chez Omar was wonderful that evening, and the place was bustling and lively.
The next day we strolled through the Quartier Latin, starting on rue Mouffetard exploring the shops of one of the oldest market streets of Paris. The Panthéon, which is at the bottom of that street, is an interesting building and not as well-known as others in Paris, but well worth the visit. The pendulum is magnificent! We left there and we were finally able to catch our breath as we lounged in the famous green chairs of the Jardin du Luxembourg. A nice place for a breather! There was a marvelous display of photography, in which huge framed works were hung from the outsides gates of the garden. A wonderful find to stumble upon!
Wednesday was a busy day starting out at Musée Rodin, which is delightful both inside the house and outside in the gardens. The flowers and trees were just beginning to flower in Paris but spring was definitely in the air. The displays of Rodin's works, inside and outside, are just marvelous. Then we toured Les Invalides, where Napoleon's tomb and others are on display, and again just the building alone is gorgeous. Afterwards, we walked along the Champs de Mars, underneath the Tour Eiffel, up to the Palais de Chaillot, where again we had to stop for our ritual afternoon "goûter". Then we took a delightful stroll down the Allée des Cygnes to see the Statue of Liberty, up close and personal. A great view of the river and the city on both sides of this allée! We all enjoyed a delicious soufflé dinner at Le Soufflé that evening.
Thursday was also museum day, starting out at Le Louvre. It is always crowded, even if you get there early in the morning. Then we toured the Musée d'Orsay, which is always a treat. We had dinner with French friends of mine, Eliana and Jean-Marie, that evening, so everyone had to tend their ear to full French conversation.
The following day we spent at Versailles, catching the RER in the morning which is easy and convenient. They are cleaning up the buildings there and reguilding the gold around the top of the palace. It is so shiny and new looking, it is almost blinding! We had perfect weather, as we did almost everyday of the trip.
Saturday was a good day to slow down and rest a bit, so this is when we took our trip on the Canal Saint Martin. A nice 2 ½ hour trip through and under the streets of Paris, which gives you a completely different perspective of the city. After lunch, we strolled through Cimetière Père Lachaise which is so easy to get lost in as it is such a huge park, but there is always something interesting to see. It is the cemetery of all cemeteries!
Sunday morning we strolled through the Marché Amelot, which is one of my favorite markets of Paris and a photographer's delight, for people and food subjects. I can't contain myself when I have my camera with me. We then had lunch at the Place de la Bastille, before heading over to the Place des Vosges, for a nice afternoon thé et gateau, and then to Ile Saint Louis, to stroll down the old narrow streets and window shop in all the small, elegant boutiques.
Chateau de Vincennes was our morning visit the following day. We toured the old chapel, which had a wonderful display of old instruments, and then we climbed the long narrow staircase of the donjon, where you would never want to have to serve time! After lunch in a brasserie across from the chateau, we headed to Le Bon Marché, via Saint Sulpice, which is almost completely under scaffolding. The displays in that store are so eye-catching and elegant. We had a tagine dinner followed by thé à la menthe at La Grande Mosquée de Paris that evening, which was someplace none of us had ever been to before.
Our last full day was in Giverny, where Claude Monet's home is located, and it was a highlight for all of us, even though we'd all been there before. We left sunny Paris on the train and arrived under cool, windy, gray skies. Arriving at lunchtime, we took refuge inside for a nice lunch then strolled through the gardens and house at our leisure. We were lucky enough to have the sun come out and enjoy most of the gardens in the sunshine, and all those gorgeous flowers, mostly tulips, were in their glory. There was every kind of tulip - size, color, shape - that you could imagine. We were too early for the roses and many other flowers, but it was still a wonderful feast for the eyes!
During out trip, the volcano in Iceland caused havoc in the skies above Europe, just a few days after we arrived. Over a period of a few days, all flights out of France and neighboring countries came to a standstill. Were we going to be stuck in Paris?!?! Well, we all decided not to worry about something that we had absolutely no control over, and if we had to stay, then each day one of us would decide the plan for that day and we would get to enjoy more of Paris than we had expected. Depending on how long we might be forced to stay, I thought we should even rent an apartment to cut down our costs, and start going to the markets to buy our food and do our own cooking, which was a happy thought for Jack who loves to cook. But this never came to fruition as our flights left on the first full day of scheduled flights out of Paris. It never hurts to dream, but then again it could have been a nightmare if we had been stuck there indefinitely, as family, friends and jobs awaited us at home. But this made for interesting daily thoughts, not knowing when or if we would be heading home.
This was a wonderful springtime trip for all of us. We all talked happily about the next time we would return to this beautiful city!