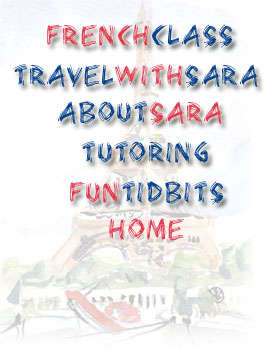 Alpes de Haute Provence, September 2013
Slideshow
The September 2013 French with Class trip took place in the Alpes de Haute Provence in southeastern France. Blue skies, sunshine and autumn colors made this wonderful area not only very pleasant but even more spectacular. This year's group included Daniel, Mary, Judy, Ruth, and Tom who is quoted, "I've learned from our trips that each one is different yet similar. I am constantly amazed at the wide variety of terrain in a relatively small country, and the differing styles of architecture, foods, wines and customs. Every trip is unique and I've learned not to expect anything but an enjoyable time".
The world capital of perfume, Grasse, was the first stop. Our lodging was in an 18th century home converted into a hotel overlooking the Mediterranean, and breakfast on the sunny outdoor terrace gave morning a little touch of paradise. We toured Fragonard the perfume factory where old and new perfume-making techniques and machines were displayed to show how multitudes of flowers from the surrounding area are turned into exquisite scents. Many of the brand name perfumes, including Chanel and Christian Dior, are created here. The group left smelling good with a souvenir in hand.
Nestled in the rocky cliffs above the breathtaking canyons of the Gorges du Verdon, along which we drove and stopped often to admire the beauty, we spent six nights in the little village of Moustiers. When the sun sets, the village and cliffs blaze a red-orange color, and the sky is dotted with parasailers and hawks for added charm. The narrow cobblestone streets wind beneath the towering cliffs past waterfalls, olive trees, and small Provençal boutiques. Well-known faïence (pottery) is made here and we were treated to a private tour of a local faïence craftsman's atelier.
Each day from Moustiers, the group had a different excursion. Tourtour, with its two towers ('tour' in French means 'tower'), was one of the delights, offering breathtaking views and quaint well-preserved, winding cobblestone streets. We ate lunch on the main square and watched, from under a huge canopy of plane trees, while a small market of local Provençal goods wrapped up its day. In a nearby town, Gréoux-les-Bains, we toured a mother/son family workshop which has made santons for 8 generations. Santons are hand-painted clay figurines, some dressed in clothing, representing all the historical trades in Provence. At Christmastime, santon markets spring up all over the region and these figurines are an integral part of nativity scenes in French homes.
The roads in this mountainous area are very narrow with sheer cliffs that plunge into the canyon. Unlike in many parts of the U.S., the roads in this Gorges area have no guardrails and driving can be quite treacherous (especially with a large seven-passenger van). But we made it safely to Vence, our final destination, where the hotel owner graciously greeted everyone with orange juice on his covered outdoor terrace, despite the only rain we encountered on the trip. We visited Vence and its hilltop neighbor town Saint Paul de Vence both which are walled cities with small cobblestone streets full of artisanal boutiques.
Before flying back to the States, we spent the day in Nice strolling along the Cours Salaya, a market street with a marvelous array of fresh flowers, beautifully displayed fruits and vegetables, and typical bold-colored products from Provence. Nice is set on the Mediterranean Sea with rocky beaches and scrumptious tones of different blue-colored water, and its no wonder that the French call it 'la Côte d'Azur' (the blue coast).
France is a country rich in topography, gastronomy, and artisanal creations, and Haute Provence was well worth a trip.