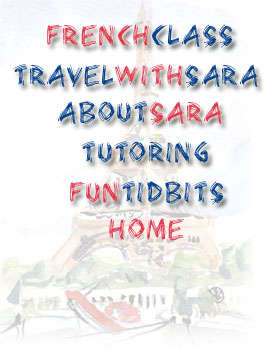 Photos from Class
| | |
| --- | --- |
| Playing boules | Discussing a recent trip |
| 8-heures Goûter | Holiday Goûter |
Les Films Français
Have you seen any of these movies? If so, let me know what you thought!

They are in French and wonderful movies to see.
Some Great Books
Here is a list of recommended books on Paris, or on France in general, written in English. If you have others to recommend that you've read and enjoyed, please let me know and I will add them to the list.
Mystery of the Yellow Room , Gaston Laroux
Paris on a Plate , Stephen Downes
Talk to the Snail , Stephen Clarke
You Can't See Paris From Here , Michael Sanders
A Castle in My Backyard
Monet's Table , Claire Joyes
La Voile de la Peur , Samia Shariff
The Olive Farm , Carol Drinkwater
At Home in France , Ann Barry
French Lessons , Peter Mayle
Provence A-Z , Peter Mayle
My Life in France , Julia Child
Marie Antoinette , Antonia Fraser
Tarte Tatin , Susan Loomis
From Here You Can't See Paris , Michael Sanders
Home and Dry in France , George East
French Flea Bites , George East
Into a Paris Quartier , Diane Johnson
A Year in the Merde , Stephen Clarke
French Toast , Harriet Welty Rochefort
Murder in the Marais , Cara Black
Entre Nous , Debra Ollivier
Paris Revisited , Gary Lee Kraut
Almost French: Love and a New Life in Paris , Sarah Turnbull
Entre Nous: A Woman's Guide to Finding Her Inner French Girl , Debra Ollivier
Le Mariage , Diane Johnson
A Year in Provence , Peter Mayle
Toujours Provence , Peter Mayle
Paris to the Moon , Adam Gopnik
Paris Bistro Cooking , Linda Dannenberg and Guy Bouchet
French Dirt (Story of a Garden in Southern France) , Richard Goodman
Paris , Julien Green
On Rue Tatin , Susan Loomis
French Farmhouse Cooking , Susan Loomis
The Heart of France , Janet Allon
A Walk Across France , Miles Morland
The Secret Life of the Seine , Mort Rosenblum
A Place in the World Called Paris , Steven Barclay
The Complete Idiots Guide to Learning French , Gail Stein
Magic of Provence , Yvone Lenard
Le Divorce , Diane Johnson
I'll Always Have Paris (A Memoire) , Art Buchwald
French or Foe , Polly Platt
Paris France , Gertrude Stein
Paris Dreambook , Lawrence Osborne
Imagining Paris , J. Gerald Kennedy
A Place in Normandy , Nicholas Kilmer
Travelers Tales France , James O'Reilly