Due to COVID-19, tutoring lessons are currently held via SKYPE.
New students are welcome.
Private tutoring is available and encouraged. Whether you need to simply practice conversation or need to work on grammar and texts with someone to help at your side, I can provide the one-on-one help that you need.
Whether you are a high school student struggling with your classroom French, or an adult who is heading off to spend time in France and you need some concentrated help, I am available and willing to work with you. Maybe you just want to have the opportunity to talk in French with no specific agenda. That is possible also.
I work with all ages and levels. Some of my current younger students have made some wonderful drawings to help them learn their vocabulary and geography. I am so pleased to be able to show off their drawings, which you can see here. Click on each picture to see a larger version.






Please contact me, at 925-691-4559, for rates and location of the sessions.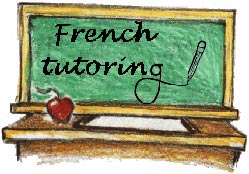 What they are saying!
When I decided I wanted to actually learn French I found Sara Villat, and I have not been disappointed. She knows the language inside and out, and how to teach it. There is a difference between people who can speak French and people who can teach it. Studying French privately with Sara is fun and has greatly improved my French and my knowledge of the English language. I can't think of a better way to spend my time. It is worth every penny!
-- Kay H., Pleasant Hill
---
To be honest, without Sara as my compass, I would never have been able to navigate the jungle that is known as French. Anytime that I was lost, whether it was the "subjunctive" desert or the "conditional" river, Sara would guide me to the right path for success. Thank you always, Sara.
-- Adam from De La Salle High School
---
Traveling with Sara, twice to Paris, proved to be the most valuable part of my lone Paris trip this year. The experience with Sara gave me the confidence to navigate the train station, which passes to buy for the Metro, and what sites may be closed on certain days, etc. I felt like I had a personal guide in my back pocket.   Sara takes you to such a variety of places that you may end up on a different adventure than what was originally "planned" for that day which is exactly the way I took my trip this year and it was grand! Thank you, Sara!
-- Debra M., Concord